Burning and torn … The days of June 13 local election posters and banners
NEC said, " I will regard it as a serious crime and punish it severely. "

In the run-up to the June 13 local elections, candidates ' bills and banners attached for the right to know voters are frequently damaged.
In many cases, a candidate's photo is burned with a cigarette and torn with a sharp instrument for no reason.
In Gochang, the banner for Park Woo-jung, governor of Gochang, the Minjoo Party of Korea, was damaged.
[Spartles for corrupt county governor Park Woo-jeong Gochang [Park's election office offer = Yonhap News Agency]

The banner, torn by a sharp instrument, has become so ugly that it can not recognize the candidate's name.
The man in his 30s who damaged the banner turned himself in to the police the next day, saying, I drank a lot and I didn't know. We have no political intention.
On the same day, a man in his 40s who tore the banner of a candidate was caught by the police at an apartment complex in Heungdeok-gu, Cheongju.
At that time, the drunk man damaged banners and even used violence at nearby restaurants.
" I took it out on the banner because I was in a bad mood, " he said, who was arrested by the police.
A banner for independent candidate Cho Kyung-gon was found damaged by a cigarette Tuesday in Incheon.
An official at Cho's camp confirmed that someone had smoked a photo of the candidate and reported it to the police.
In Changwon, South Gyeongsang Province, there was a series of damage to the party's candidate posters.
Kim Kyung-soo, candidate of South Gyeongsang Province Governor Kim Kyung-soo, Choi Eun-ha, and Park Jong-hoon, candidate for education superintendent of South Gyeongsang Province, were damaged by cigarette smoke.

The damaged posters were burned in the eyes and mouth of the candidate.
Other posters that were posted together were not damaged.

The police are also tracking down the suspect with the possibility of politically motivated crimes in mind.
In Cheonan, South Chungcheong Province, a merchant who tore up a banner for covering up his store's sign was accused by prosecutors.
The merchant was questioned by prosecutors when he removed two banners, including a candidate for the branch office in South Chungcheong Province and a candidate for a lawmaker in Cheonan, saying that they were hindered from operations on July 31.
For the same reason, a merchant who was caught by the police after removing a banner around a subway station in Uijeongbu, Gyeonggi Province, said that the banner hid the store and put it away.Corruption of campaign posters and banners has become a political issue.

Nam Kyung-pil, a candidate of the Korea Free Korea Party who visited the election committee after a series of missing campaign notices, said, " The election paper of a new apartment complex in Gwanggyo, Suwon has been damaged and left on the floor. "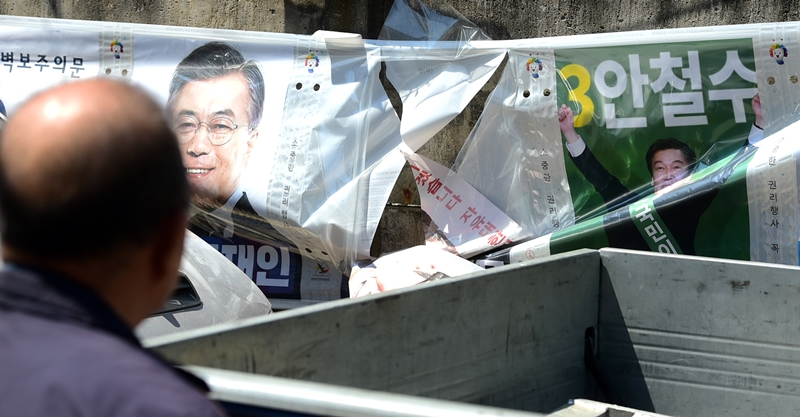 [2017.04.23] A road near the National Agricultural Cooperative Federation branch of Incheon, Namdong-gu, Incheon, is hung with election posters damaged.

Yoon Sang-soon

The police and the election management committee said they will consider the damage of election posters and banners that violate voters ' right to know as a grave crime and will punish them severely.
The Public Official Election Act stipulates that if election posters or banners are damaged without due cause, they can be sentenced to up to two years in prison or up to four million won in fines.
A police official said, " With the June 13 local elections approaching, there are reports that candidate posters and banners have been damaged across the country.

Source : (Choi Eun-ji, Lee Jung-hoon, Lee Seung-min, Han Jong-gu, Choi Jae-hoon, Choi Chan-heung, Jung Kyung-jae)