Singapore Foreign Affairs "Kim Jung-eun Hotel Stay .. Expenses 16 Billion We Pay"
We don't know the specific amount … already reflected in the total cost of hosting the talks in the amount of 161 billion won.
The Singaporean government said on Thursday that it will pay for North Korean leader Kim Jong Un's visit to Singapore to attend the June 12 North American summit.

The question of who will pay for Kim's stay at the Singapore hotel was one of the concerns surrounding the talks, and the U.S. concluded that " we do not pay the hotel bill. "

According to Singapore's local media, Straitz Times, Singapore's Foreign Minister Vivian Balacrishnan asked a BBC reporter if she would pay for Kim's stay. We will entertain him. " Kim would have wanted to come to Singapore, whether or not the (North American) summit was held or not, and we must have welcomed them too, " he said.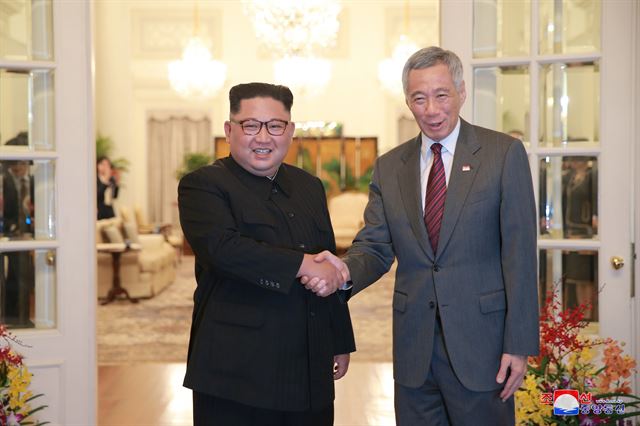 However, the actual cost of Kim's stay in the U.S. is not known. Kim arrived in Singapore on an Air China flight the day before, and is using the St. James Hotel in Singapore with a North Korean delegation. As Reuters reported, if he leaves Korea at around 2 p.m. on Saturday, right after the summit meeting with U.S. President Donald Trump, he will stay at the hotel for two nights and three days. Balacrishnan said, " (The cost of staying at the summit, including the cost of Kim's lodging) is also included in the Singaporean government's budget for the summit. "
Singapore's Prime Minister Lee Hsien said earlier, " The total cost for the summit was 20 million Singapore dollars. North Korea reportedly said it is not easy to cover the cost of Kim's stay in Singapore, citing the shortage of foreign currency during working-level negotiations with the U.S..

Source : http://www.hankookilbo.com/v/8d17f46582a7446f80c9b4bb54d50829