Meet CEO Lee Jung-hoon of ECSP!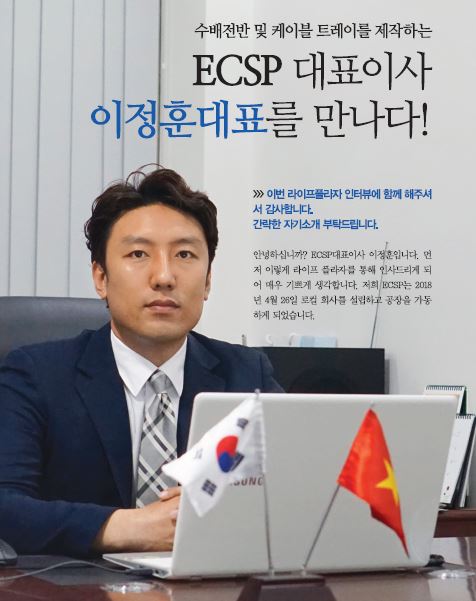 Low voltage switchboard and cable tray
Meet CEO Lee Jung-hoon of ECSP!
Thank you for joining us in this Life Plaza interview.
Please introduce yourself briefly.
How are you? I am Lee Jung-hoon, CEO of ECSP.First of all, I'm very happy to say hello to you through Life Plaza.On April 26, 2018, our ECSP established a local company and started operating its factory.ECSP mainly produces high pressure, low pressure switchboards and cable trays as its main products.I am always trying my best to reward customers with better products with technologies I have accumulated in Korea over the past 20 years.
I have lived in Ho Chi Minh City for the past year and have started with confidence through customer confidence and market analysis.I ask you to pay a lot of attention to the Korean residents in Vietnam.
1. Do you have any special reason to come to Vietnam?
Actually, I had a chance to go to Vietnam about 13 years ago, but now I am moving to Vietnam because Korean factories are expanding.I have only been in Vietnam for 15 months. We're in the process, and a lot of people are helping us. Thanks to the steady growth of Vietnam's economy, our ECSP is also expanding with our customers by localization our technology.
2. Why did you move to Vietnam?
If Vietnam's average age is 30 years old, it is expected that the growth of the larger domestic market will be the basis of the boom of the real generation. ECSP entered the market to promote mutual growth and customer satisfaction with local technology transfer and product quality improvements.
3. What are the strengths and characteristics of our company?
The first strength of the ECSP will be the technology it has accumulated in Korea over the past 20 years.To maximize the effectiveness and safety of products first, ECSP uses advanced materials.Even if the company's profits are falling, the parts to which the product comes in are selected as the best.
In addition, we have trust and responsibility to increase customer satisfaction.Many of our chief executives came to Vietnam to emphasize the importance of giving customers confidence.Therefore, the strength of our ECSP is that it pays back with post-management and always good products that are as responsible as the reputation we have accumulated in Korea for the past 20 years.
4. Please say a word to Koreans who subscribe to the Life Plaza.
Now I'm starting anew in Vietnam. While we may still be short, we will grow into a professional company through good products and satisfactory follow-up management. We will also strive to make the profit of the company a company that can serve the community with social responsibility.