Huh Beom-do Busan universiry A special lecture invited by Professor
Huh Beom-do Busan universiry A special lecture invited by Professor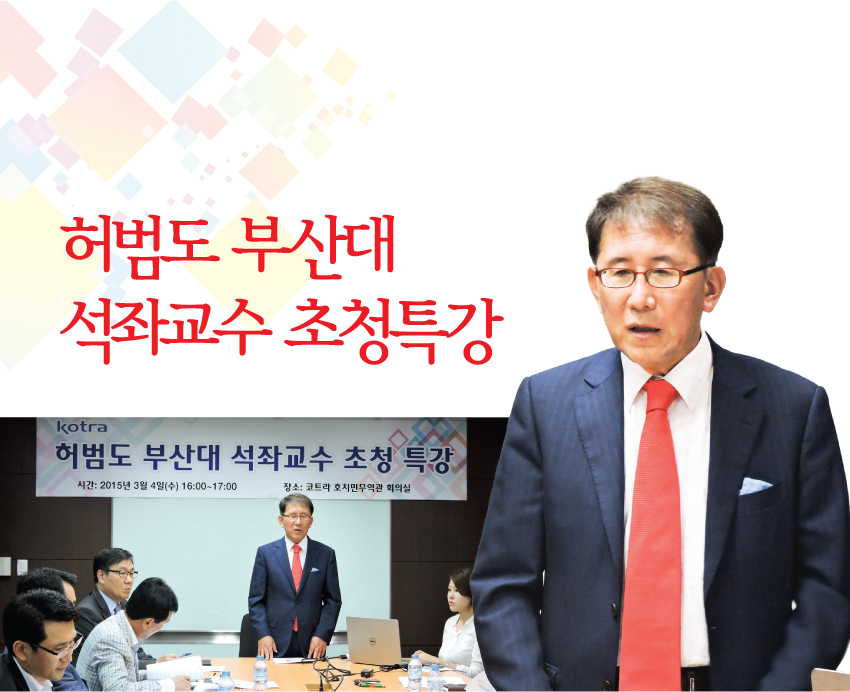 Professor Huh Beom-do's special lecture was held at 4 p.m. on March 4, 2015 at Ho Chi Minh branch of KOTRA. More than 20 people attended the lecture to hear Heo Beom-do and gave welcome to Huh Beom-do, who appeared with the words " Shin Chao. "
The special lecture on the day explained the importance of small businesses, tasks for growth of small businesses, and the theory of technology, production, and marketing under the theme of " Global Environment and Strategies for Small and Medium Businesses. " Korea's economic growth was $ 79 per capita in 1960, but per capita GDP rose to $ 24,000 in 2013, said Huh Bum-do, a chair professor at Busan University. Korea has experienced two economic crises since the 1990s, and experienced foreign exchange and global financial problems. It took 10 years from $ 10,000 to $ 20,000, and last year it was $ 24,000. At present, Korea is ranked 15th in GDP (1 trillion dollars) and seventh in trade (1 trillion dollars ' 13). " " In order for small businesses to grow, they need to know the TPM theory (short for TPM, technology, production and marketing), " he said.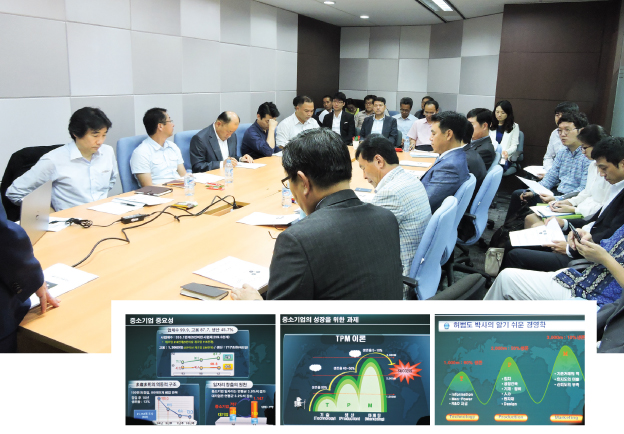 Currently, it is no exaggeration to say that the source of job creation in Korea is small and medium enterprises, as they are seeing an average annual increase of 3.9 percent and a decline of 3.2 percent on average. However, while the number of small and medium enterprises in Korea is countless, the survival rate for the first 10 years is very small, with companies more than a decade old except Doosan, Woori Bank, Donga Pharmaceutical Co., and Mongolia's soy sauce. On the other hand, Germany and Japan have 4,500 long-life companies over 200 years, accounting for two-thirds of the world's 7200. This is the basis of the robust industrial power achieved by both Japan and Germany. The accumulation of technology and trust that these companies have accumulated for a long time are the most important factors in the world. Then, why does Korea have so many small and medium-sized companies and its survival rate is small? Heo Beom-do said this.The service industry is not enough in our country. A successful family succession keeps the company afloat. He only learned and mastered what other people were doing at a blacksmith's shop, such as a machine, electronics, chemicals, and textile factories. Now that they are over 60 to 70 years old, it is a very important time for corporate management to be transferred to the second generation. The second generation is ready to take charge of business administration with the help of their father, taking a master's or MBA courses, including getting a proper formal education, studying abroad, and studying English. The problem, however, is that many of them do not want to take over their fathers ' small businesses. The reason for this is the fact that the labor unions were forced to retreat due to a lack of chronic funds for the poor working environment that they saw as a child, the labor unions, and the typical company. If the succession to the family is not smooth, the company may naturally lose its owner and disappear. To stress the need for family succession to continue, there are five things to consider. First, the succession of technology. Technology does not form in one day or another ; technology that has been around for decades must be inherited. Second, the maintenance of employment. A healthy workplace is essential for young people in the community and for existing workers and their families. Third, maintain relationship with buyer. If you miss them once, competitors in other countries will snatch them off. Fourth, the succession of teamwork. In corporate management, solid teamwork is the energy that overcomes the global environment. Fifth, most importantly, it is functioning as a safety net for society. Only if companies continue to maintain stability can local residents and society remain stable. If these five factors are practiced, as the phrase goes, small - and medium-sized companies in Korea will be able to take off the title of 13 percent survival rate and turn into long-life companies.

Heo Beom-do said, " Young people these days have little sense of social or economic reality, but with the opening of the movie, we have the educational effect. "

I applaud Heo Beom-do, a professor at Busan National University, for giving an hour of useful lectures for Korean residents in Ho Chi Minh City.