Winter Snow Town in Ho Chi Minh City
As soon as I entered the third floor of Snow Town building, I felt cool and refreshed. It is now snowtown, a hot spot in Ho Chi Minh City. Snowtown opened last February and has been receiving a steady stream of visitors. Snowtown is the only place in Ho Chi Minh City where you can walk over 40 centimeters of snow and play various games related to snow.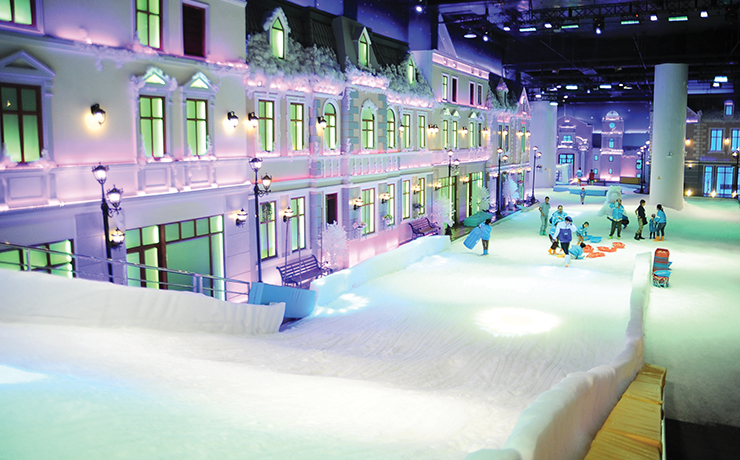 It operates from 10 a.m. to 10 p.m., but this peri
od should be avoided because it is a brake time from 4 p.m. to 6 p.m. Children (80 cm to 130 cm) can be used on 130,000 VND on weekdays on 130,000 VDN, weekends, and holidays, while other adults can use 180,000 VND on weekdays, 200,000 VND on weekends and holidays. When you finish your calculation, you can rent your boots for free and you have to change your shoes. Also, like amusement parks, tickets are provided with a strap that can be worn around the wrist.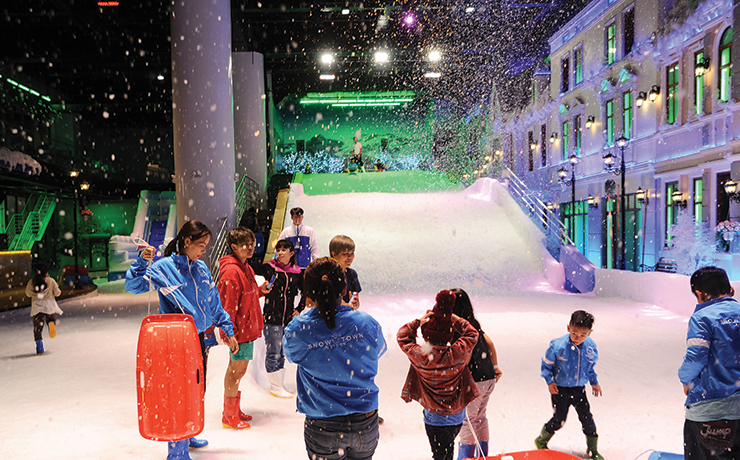 At the entrance to the sleigh yard, there were various souvenir items such as doll and character bag for children. As you walk around here, an employee opens the entrance door at the entrance to the sleigh yard, which is the main place in Snow Town.

The sled yard was decorated with soft street lights and long benches and snowing. Children and adults combined to hear the sounds of laughter and joyful screams on the sleigh. It seemed quiet because it was weekday, but people began to gather around when it was dark outside. I was able to greet my British family by accident, and I could hear the conversation of Chinese families. It was popular not only with locals but also with foreigners.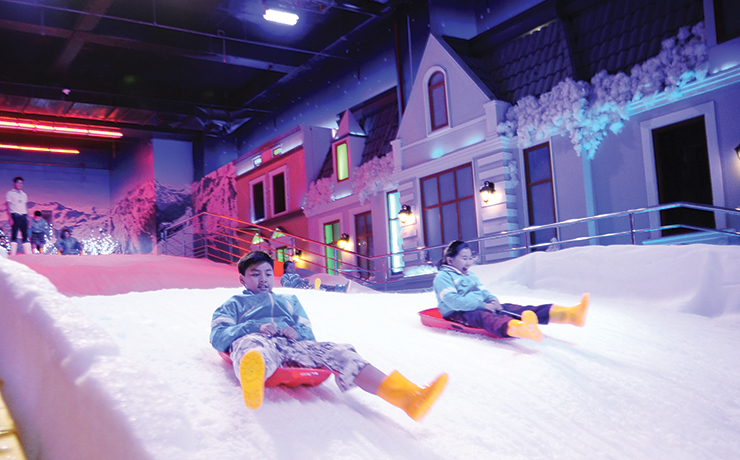 Small shops inside the sled yard are selling toys that can play with snow for about 100,000 VND, so I could ride a sled and touch and play with the toys myself. On one side, there was an air slide, so the young children who were afraid of sledding played on the slide while touching the snow. Hats, gloves, and scarves were sold between 3, 5,000 VND and 7, 5,000 VND inside the sled yard, in case the children were dressed lightly. If you want to relax your body after enjoying various games on the sled, you can go outside and spend some time using a ball pool or a game machine. There were places for children everywhere.
The sleighters were holding the sleighs on the sleighs so that they would not bump over or hit other places. So many employees were especially concerned about safety, and if they were injured, they could be directed to the Medical Office. There are disinfectant, bandages, bandages, and so on, so you can get first aid. When you are hungry or hungry, you can eat a simple meal or buy a drink. While it is free to go outside, one thing to note is that if the strap on the wrist is broken once, it is not possible to re-enact it.

There are many games and activities for children, but you are mistaken if you think it is only for children. You can learn skiing with your lover or have a romantic date with a photo zone. Visitors who bring their children can ride a sleigh with them, or watch them play because there is a quiet cafe on the second floor where they can look down on the sleigh.
Since it is only open until May, I recommend you to come here before it's too late and spend some cool time in Ho Chi Minh City with your family or lover.