I have kept my promise with Vietnam. A step toward shared growth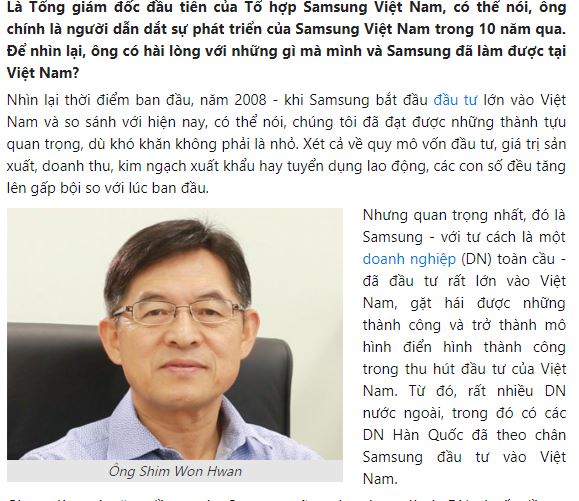 In the story of Shim Won-hwan, executive vice president, who made headlines in the news of Baodautu, Vietnam.

T.T.T. S.O.T. Sheet Nam Won Hwang : NikkI NachI NachI NachI Nachigt t

I have kept my promise with Vietnam. Shim Won-hwan, Executive Vice President of Samsung Vietnam

Behind the remarkable growth of Samsung in Vietnam was the great achievements and roles of Samsung Vice President Shim Won-hwan.

He talked about the past decade's investment plans to bring Samsung and Vietnam to the forefront of global competition through system construction.

Compared to 2008, when Samsung Electronics began to invest heavily in Vietnam, it can be said that it achieved many difficulties but significant results.

Considering the size of the investment, production value, sales, exports and staffing scale, the company has reached its intended level of performance.

Along with the increase in investment, Samsung Electronics, along with other foreign direct investment companies, has played an important role in promoting the socio-economic development of Vietnam and boosting exports.

Last year, Vietnam's exports topped $ 400 billion, with exports surpassing $ 200 billion, and Samsung Electronics Co. accounting for $ 54.4 billion in sales, accounting for a quarter of its total exports.

Accordingly, foreign exchange reserves are expected to increase and the exchange rate is expected to remain stable.

This will be a solid foundation for the socio-economic development of Vietnam.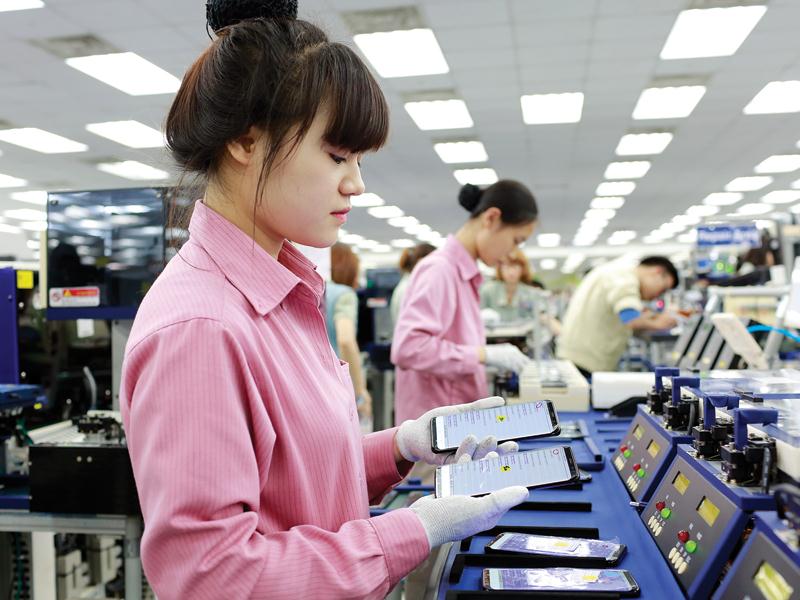 We are proud to have contributed to this important platform, ' said Shim Won-hwan, vice president.

" One of the most important reasons for Samsung Vietnam's success lies in its employees working together, " he said.

Because the most precious resource in any business is human resources, they are not just salaried workers but family members.

They will contribute and make contributions to the company to achieve their future dream with the development of Samsung in the next 10 and 20 years.

Another important factor in Samsung's success is that it has always kept pace with the world's trends and acts quickly and surely in a timely manner.

When I first invested in Vietnam, my smartphone took over 80 percent of the market.

Although it dominated the global mobile market, the smartphone era has changed in just 10 years.

The following is what Vice President Shim Won-hwan said.

" We've been in Vietnam for 10 years, but the next five years were building the foundations of our factories.

We operated SE in 2014 and started our activities in 2015 and became a partner of Samsung Electronics by supporting Vietnamese companies. "

" At a meeting in Korea, I told you so much about Vietnam and its factories and its employees.

If management loved Vietnam so much, they told me to go back to Vietnam, and now I'm back in Vietnam. "

We will do our best to contribute to the social and economic development of Vietnam and maintain the world`s highest position with Samsung Vietnamese management.
I also hope people will be more loved by the Vietnamese when they have Samsung products. "