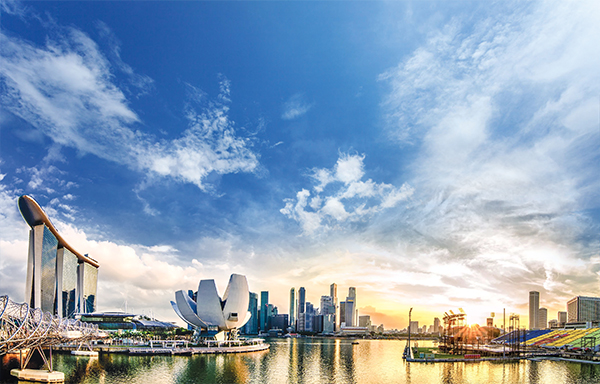 ㅇ History and culture
The official name of the country is the Republic of Singapore (Republic of Singapore), and its territory is 646 km2, a little larger than Seoul [605 km2]. Of the total population of 6 million, 40 percent are foreigners, consisting of books and Christmas islands centered on the island of Singapore. It runs along the Strait of Malacca, which connects the South China Sea and the Indian Ocean, and has an 80-kilometer coastline. The ethnic groups are 76 percent in China, 14 percent in Malazian, and 8 percent in Indian-Indian.
Singapore's history was the discovery of Singa Pura in the 13th century, the establishment of the East India Company in England in 1819, the East India Company as the English Channel Constrolation in 1826, and the British colonial government in 1942. Malaysia, Singapore and Indonesia are among the three countries that share strategic key positions, with 25 percent of global traffic passing through the 1,000-kilometer Malacca Strait.
While Singapore's average wage is 3 million won, Malaysia's average wage is only 700,000 won, and more than 700,000 people are commuting from Malaysia to Singapore every day.

Thirty-nine percent of the population is foreigners, ten percent are permanent residents, and it is a global transit trade and international financial hub. In Singapore, finance accounts for 13 percent of GDP and is a world-class financial hub along with New York, Frankfurt, Tokyo, Shanghai and Hong Kong. Not only is it competitive in service industries, it is also competitive in manufacturing industries such as electronics and chemicals.
It is a country that is recognized for its integrity and fairness as one of the world's most respected elite officials and countries with no corruption. The gender equality index is also high, with 11 percent of corporate women executives behind Vietnam at 17 percent. In advanced countries, there is still a number of flogging that governs punishment as a rare hawk, and there is also a country that is on the path of a " one-party, long-term dictatorship. "
The land nationalization provides public housing to 86 percent of the public, and the total fertility rate is 0.8, far below 1.21 in Korea, which is a low output country. Although Malay is a national language according to the constitution, Chinese, English, and Tamil are also commonly used naturally. The religion is 53 percent Buddhism, 15 percent Islam, 13 percent Christianity, and 4 percent Hindu. It aims to become a fully realistic and pragmatic country through English communalization and dual language policy.
Unusually, it is also a military power in Southeast Asia. The defense sector alone spends 3.4 percent of GDP and 26 percent of the national budget, which is worth more than 10 billion dollars a year. Due to its small territory, the U.S., France, Australia, Qatar and Brunei have overseas training facilities and air bases. It has more than 100 state-of-the-art fighter jets, 10 tankers and four early warning control planes in Southeast Asia. He is also preparing for Chinese pressure by conducting regular military drills with Taiwan.
The political format is the Republican system of the parliamentary system, and the National Assembly is a five-year-long unit, while the main political parties are the People's Action Party (PAP), the other Labor Party (WP) and the Democratic Party (SDP), which have been in power. It is famous for practical diplomacy between the United States and China. Former Prime Minister Lee Kuan Yew, a world-respected and respected by Singapore, died in March 2015 at the age of 92. It has been evaluated as one of the world's eighth-largest economies in terms of GDP, from $ 400 to $ 56,000. He was familiar to us, visited Korea several times, and had a good image.
On the other hand, the Singaporean president election commission on Sept. 13, 2017 'hallima, Jacob (halimah yacob, 63)' Singapore's National Assembly speaker were the first woman president in the direct election of chosen formula without a vote.Said he was elected. Thanks to the electoral system 'I'm not the elected people in five consecutive president to become president.' is Singapore of Malaya 係 Mark Halle, No. 8 was elected president. Candidates for president over a period of at least three years as higher government posts or more than $ 2.74 million businesses, president of position should be more than possible. Of the five candidates, only Hallima met the requirements. Adopted the parliamentary cabinet system permissions for president in Singapore with expanded in January 1991, in revising the constitution. He was guaranteed the veto on the appointment of major public officials and the right to veto the budget. In terms of surveillance for the government to increase the authority as president for an ever greater role.
The People's Action Party (PAP), which monopolized Singapore's politics, has been the ruling party since 1959, winning consecutive elections. From 1959 to 1990, Prime Minister Lee Kuan Yew showed strong leadership, saying PAP was the government. It has established strong trust by implementing various policies such as housing supply, employment, and social welfare. The current prime minister is Lee Kuan Yew, son of Yu. Prime Minister Lee Seong-rong, who has served as prime minister since 2004, is fighting a legal dispute between brothers over his father's legacy. Singapore is drawing global attention after it was selected as the venue for the historic first summit between the U.S. and North Korea on June 12, 2018.
ㅇ Singapore Economy, Present and Future
GDP of $ 307.1 billion as of 2016 [GNI per capita of $ 56287. It is the world's 35th largest economy. It is the world's largest transit trade port, 7,000 multinational companies, and a major power in the casino tourism and medical industry, along with Tokyo, Hong Kong, Shanghai and Dubai. It is also one of the world's seven largest tourist cities with a safe and convenient tourism infrastructure, with 13.50 million tourists visiting and spending 135 billion dollars a year. There are so many things to enjoy such as entertainment, food, shopping and sightseeing. It is also an open economic system that relies heavily on international trade and investment due to lack of natural resources, and an economic power that surpasses Japan in Asia.
ASEAN countries are now experiencing high growth on the basis of low labor costs, low land costs and abundant foreign investment, but the gap in technology between countries has been narrowed and will be held in line with other advanced economies. And at the center of it is Singapore. The city is now transforming into a self-evolving smart city mechanism based on AI. Singapore is the closest country to Smatty City and the optimal location for fourth industries such as 3D printing, Smart Factory, and Smart Farm. The answer is Singapore, the city where 70 percent of the world's population will live.
Singapore's competitiveness includes the world's official language of English, clean and stable living environment, and open culture. High education and competitive institutions are also the driving forces behind the nation's development. The top 10 universities in Asia have Singapore National University at nearly the top. Selected, Singapore's top code is $ 8.7 billion with real estate entrepreneur Robert & Philip Ng. Singapore is the number one competitive country recognized by the world in almost all areas such as politics, economy and society.

⑦ Potential investment industry and investment cautions
Singapore is a country that is not lacking in manufacturing, service, finance, infrastructure, and diligence. Of the six million people in the country, 40 percent are foreigners, a byword for the global community. The Asian heads of multinational corporations are mainly resident, with most of the global financial institutions advancing, and with full autonomy there are few barriers to business. It overcomes the weakness of the small country's consumer market with logistics and networks and is making inroads into overseas markets.
It is the most advanced member of the 10 ASEAN countries, and has been a business hub. In Asia, the international financial market, along with Tokyo, is a representative international financial market, with Asian countries ' stock, bond, foreign exchange, raw material and even real estate centered around Singapore. It has also played a role as a financial haven for ASEAN symbols by granting financial autonomy that exceeds the level of Switzerland, which used its status as a neutral state after World War II to attract and operate large amounts of money worldwide. Singapore Airport is the world's leading hub airport, and is the center of maritime logistics at the tip of Malaysia along the southeastern Malacca Strait. It is based on Chinese-centered Chinese capital, which is admired by all countries including Asia.
The educational and general standard of living is comparable to that of anywhere in the world. Many of the nation's ultra-quality companies are also in the market, and the Korean Wave is generally favorable to our products and culture. It is a strong democracy and political developed country with strong socialist elements, and a pronoun of a country with the highest level of security in the world. Like Malaysia, it is building a complete independent system with neutral diplomacy that is not biased toward either side, such as the West or China. A flaw is the high cost of living for foreigners, which is a disadvantage.

⑦ Relationship with our country
Following the first inter-Korean summit in South Korea in April 2018, Singapore was selected as the venue for the first historic North Korea-U.S. summit on June 12, 2018. The official diplomatic relations with Korea were established in 1970 when the Trade Representative was promoted to the consulate in 1972 and the Embassy was opened on August 8, 1975.
Singapore is Korea`s second largest overseas construction market in Southeast Asia after Malaysia. More than 1,000 Korean companies and 30,000 Korean residents are operating in the country, exporting electronic products, petrochemical products and ships. North Korea was promoted to the consulate in December 1969 by its Trade Representative in January 1968, and diplomatic relations were officially established on November 8, 1975.
Prime Minister Lee Kuan Yew, who broke the deadlock in March 2015, is revered as a sovereign of Singapore, and has visited Korea nine times and had strong ties between the two countries. However, the current prime minister, Lee Hsien, and his three sons have been fighting for power.