<Yoon Go-eun's Sparrow Mill> Bad boy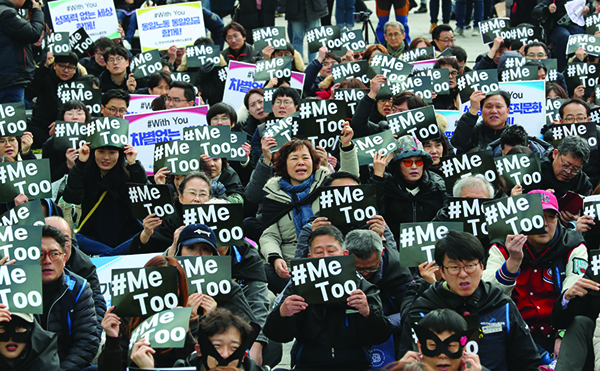 Many dramas have been entertaining with such characters as male characters. Of course there should be a reversal. Although he may seem like a bad guy on the outside, he is actually a man with a deep heart, caring and genuine character.
Among the latest movies are Goku, a character of " Hwayul ". In " Bad Guy Syndrome, " " Bad Guy " has this romantic twist. Although Anthony died young, I would say that the fact that candy was taken away by Terrius is part of the " Bad Guy Syndrome. "
But the reality is different. These days, the scandals of bad men that break out after sleep make me dizzy and nauseous. There is also a reversal here. Have a sense of human nature I thought he was human, but he was a beast. There is no turning point in the drama.
He was a caring father in the TV observation show, a strong presidential candidate who called for the realization of a just society in the square, and he looked like a hypocrite and an animal. Rather than romance, the ugly face of the nation is filled with horror and tragedy.
Japanese coercion against the Japanese military sexual slavery violate women are few tycoons, denies the allegations, claiming to have been no documented crime. He is speechless because he covers the sky with his palm, but he insists that it was a long time ago and that the evidence was insufficient.
The real bad men, who may not know, probably publicly criticized the Japanese prime minister. But what they did was worse than these.
In an era when the country is moving forward with concerns about human rights and human dignity, women were treated as sex dogs. He dominated his colleagues, juniors, pupils, and secretaries. Nevertheless, he uses iron as a false accusation that there was no coercion, that it was love, and that it was a long time ago and was not remembered.
SachanggI's gangster forced a girl to kiss at first sight, and later he manerated the girl into a sachang. A bully watches a college student slowly collapsing into a prostitute, appeasing his sense of inferiority and satisfying his desire.
Gangs tame female college students through the process of breaking up their lives. A college student, desperate for fear and fear, is braised into a gangster's woman. It is about the movie ' Bad Guy. '
Where in the world is love? Where is art and human exploration? But it doesn't stay in the movie. The revelation comes from all quarters with a tail in the tail. My bones are shaking with betrayal and shock.