Message thrown by Yoon Myung-dang into Korean fury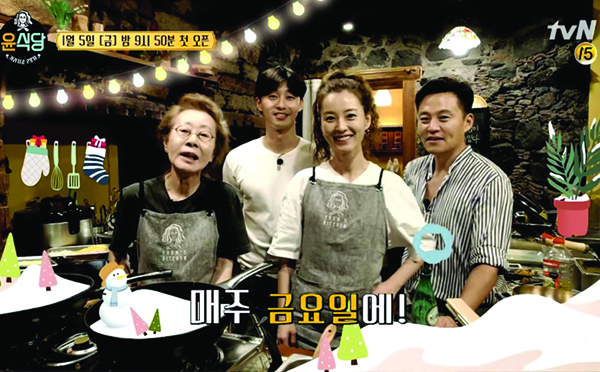 Every Friday night of the New Year on TV, familiar talents will be able to meet the daily routine of making small Korean restaurants in Karachiko, a beautiful island town in Canary, Spain. They make people happy when they make a fool of their hands and make a fool of themselves with their hands, but with their carefully cooked food and friendly service attitude. The uncoordinated appearance of restaurant customers and spectacular views around restaurants attract viewers. Food, travel, and reality entertainment are the three most popular elements of modern TV programs.
This year, the entertainment channel TVXQ's " Yoon Myeong-dae 2 " broke its viewer ratings continuously, and is still in full swing. In March to May last year, the first season of Yoon Myeong-dang, which was filmed on a small island near Bali, Indonesia, also saw a huge popularity. The main menu of the time was bulgogi, bulgogi rice, bulgogi noodle, bulgogi burger, and fried dumplings, ramen, chicken, and Pajeon. This time, the restaurant also introduced bibimbap with a wedding instead of bulgogi for vegetarians. They arranged kimchi pancakes and ice cream hotteok for the Western diet, and later included japchae, chicken, gangjeong, ribs, and kimchi fried rice on the menu.
Although they were helped by professional chefs before shooting the film, foreigners visit the food made by Yoon Yeo-jeong and Jeong Yoo-mi, who do not have much experience in cooking, and visit the restaurant again with friends. Unlike the tourist, the tourist of the first season was not just curious but also popular.
On February 9, the sixth and seventh episodes of February 23, even cooks from nearby restaurants visited the restaurant to raise their thumbs. The fact that Korean food was known to the world more than I expected was also a reminder from the media. Some customers asked if they had red pepper paste with soy sauce and some asked for kimchi separately. Not a few customers said they had ever eaten Korean food or were quite good at using chopsticks.
Up until about 10 years ago, foreign Korean restaurants had Korean tourists or local residents. Most of the places were located in Koreatown, and the menu was mostly those familiar with Korean tastes such as bulgogi, samgyeopsal, bibimbap, kimchi stew, soybean paste stew, seolleongtang, and spicy beef soup. Therefore, the majority of the respondents said that Korean food lags behind not only in Japanese food but also in India, Vietnam and Thailand.
But now it is changing. According to a recent report by the Korea Food Promotion Agency, the number of Korean restaurants operating around the world increased by 26.2 percent from 9,373 in 86 countries in 2009 to 33,499 in 90 countries last year. By country, China (15,985), Japan (9,238), USA (3,303), Taiwan (858), Vietnam (528), Canada (511), Malaysia (334), A Korean restaurant was also operating in countries where there were no Korean tourists or compatriots, including Venezuela, Suriname, Rwanda, Madagascar, Tonga and Azerbaijan.
Not only has the number of Korean restaurants increased, but also localization and enhancement are underway. 86.6 percent of all Korean restaurants are located in local businesses, not in areas where Koreans are concentrated, and 76.1 percent of local customers said they are more than half. The owner's nationality was 54.5 percent foreign. The number of Korean restaurants in hotels also increased from 37 in 2014 to 123 in three years.
According to the survey conducted by the Korea Food Agency between September and October last year, 64.1 percent of Koreans who are willing to visit Korean restaurants and 6,000 foreigners excluding ethnic Koreans visited Korea, and 83.2 percent of them were satisfied with the results. In all cities except Beijing and Shanghai, which were affected by the THAAD deployment, the figure has increased from 2016.
Although " Yunjimdang " is a reality show that shows the daily appearance of the cast and the general public, it is a reality of processing that has been produced and edited after setting specific situations. Some viewers criticize the movie by saying, " There are only negative customer responses. " As if conscious of the response and criticism, producer Na Young-seok told reporters last month, Our plan is not to promote globalization of Korean food or to inform the viewers of their management know-how.
Still, Yoon's message to a foreign Korean restaurant is not light at all. The restaurant's location selection, clean and sophisticated interior design, menu selection and recipe development considering the taste and eating habits of the locals, and the service of the restaurant's authentic color and shape, and the service of which the restaurant is well trained.
On the other hand, the popularity of ' Yunjimdang ' is being indebted to foreign Korean restaurants. If they had not been able to spread Korean food around the world, it would have been hard for them to even contemplate a project. The increase and sophistication of foreign Korean restaurants may not increase Korea`s national power, but it is clear that Korea's attractiveness index is rising. A growing number of tourists are visiting Korea because they are attracted to Korean cuisine. With creative ideas and endless spirit of challenge, we applaud the efforts of Korean restaurant workers who have led the Korean Wave in food.