Sinus cancer three arms in a superb piece of a donghae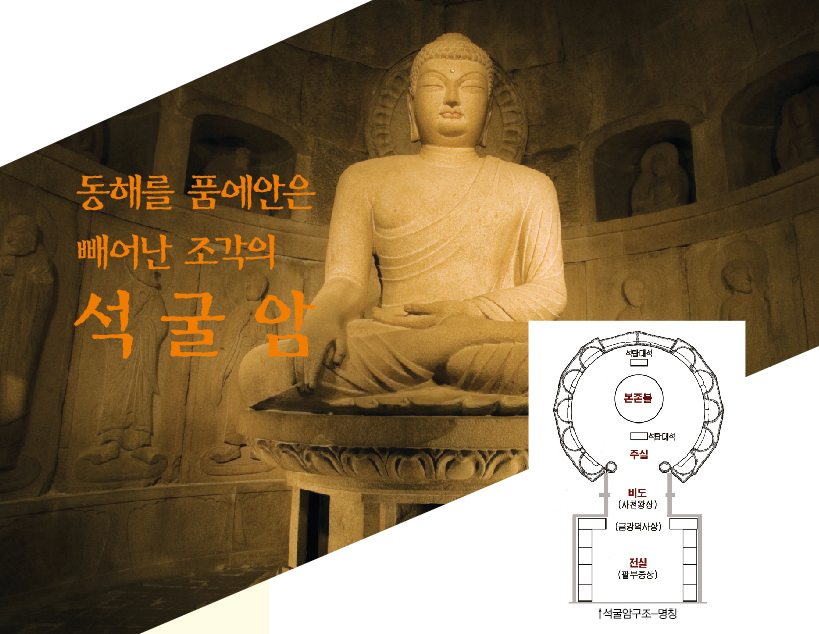 Buddha has many different types of hands, and each hand means different things. The Buddha of Seokguram is also said to have a hand shape of moyang Hang Machik .. This means ' hand shape that gives in the devil '. It seems that the Buddha is wearing a coffin and his right hand is facing the ground. At the time of his enlightenment, the demons appeared to disturb him, and when the god of the earth appeared with his right hand, the god of the earth appeared, proving that he was the Buddha, the demons surrendered to him.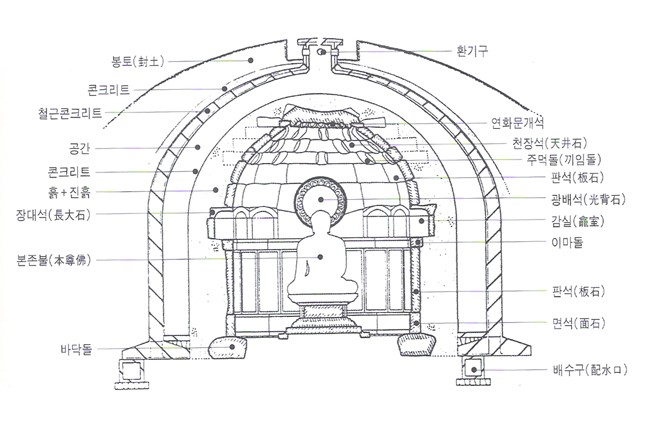 1. Features of Seokguram
Seokguram is Korea's representative stone cave temple located in Toham Mountain, one of the five ancient kingdoms of the Silla Dynasty, and was designated as National Treasure No. 24 in 1962, and is officially named as seokkuram Seokguram Stone Cave. .
Seokguram was built by King Kim Dae-sung during the reign of King Gyeongdeok of Shilla in 751 and completed by King Hyegong in 774, when the name was Seokbuksa.
Built in the golden age of Unified Silla culture in the mid 8th century, Seokguram was completed with a high level of architectural skill and a superior sense of design based on Buddhist thought and highly developed mathematical principles. The majestic beauty and sungo that we feel in Seokguram will lie in the harmony inherent in this background.
Seokguram is a reproduction of the moment when SakyamunI's enlightenment was attained through visible architecture and sculpture, and the sculpture is full of life and artistic excellence, without any artificial skill or art.
Seokguram was jointly listed as a UNESCO World Heritage Site with Bulguksa in 1995.
The Buddhist image of Buddha, which is close to perfection in the mature style of sculpture and realistic expression, the bravery of King Inwangsang, the Ten Day Hall, and the bravery of the King, In particular, in Gupta style, which is enshrined in the inner world, the forest has a calm, longest-lipped appearance, a narrow open eye, a gentle eyebrow, and a figure in its forehead.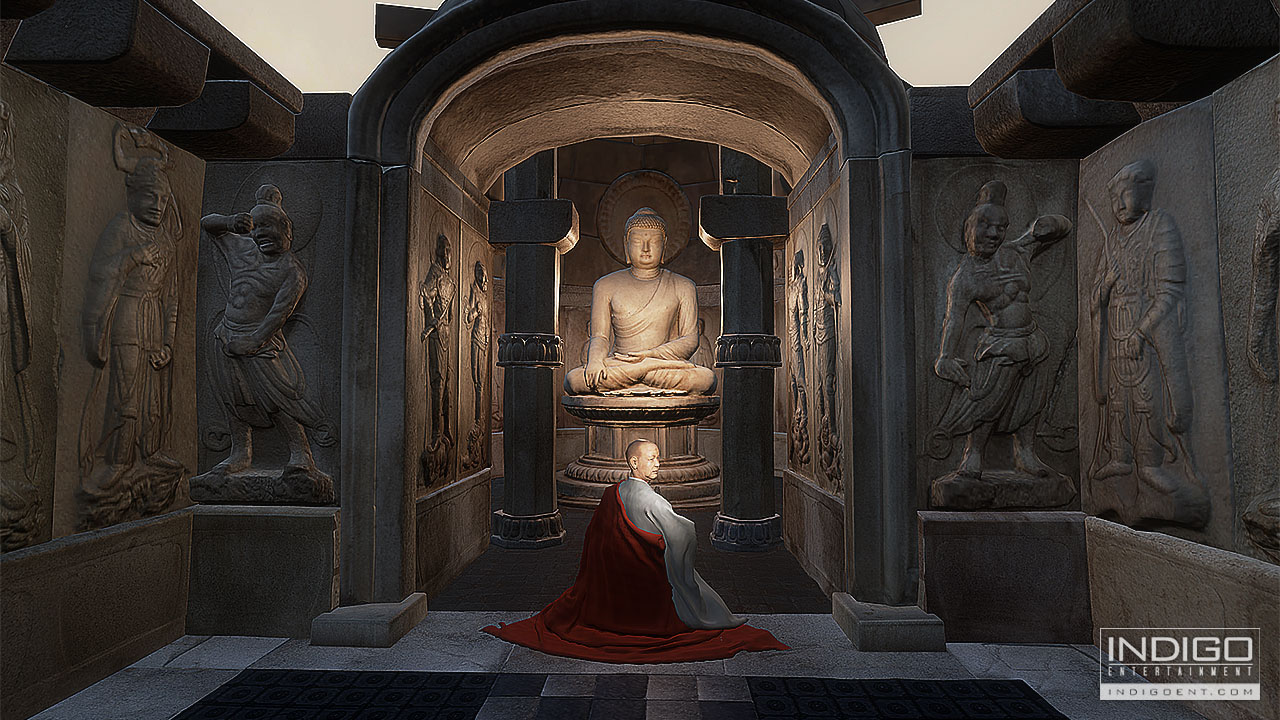 2. The Structure of Seokguram
Seokguram's stone cave was constructed artificially on the middle of Mount Toham using white bronze wood, and inside its interior space was a statue of Buddha of Buddha, including Buddha of Buddha SakyamunI, and Buddhist saints. Seokguram's stone cave is connected with a rectangular chamber and a circular stupa. In the main chamber of the flat room located at the entrance to Seokguram, there were eight stone statues of the Geumgang River in each of the four corners, and in the entrance to the left and right of the passage, two stone temples were carved.
Seokguram consists of a front room, a passage, and a main room, and the main chamber has an arm, a large arm, and a Geumgang history. At the center of Jushil is Sakyangsa Buddha Temple, and on the wall, Bumcheonsang, Jaseokcheon, Bohyeon and Munsu Buddhist saints are carved in symmetry.
A celestial body to represent the round in the space as early as in the middle of the Buddha Daebul, with a soft look and height proud of the 350 cm donghae the sitting.
Her face and shoulders are full of wrinkles, so her eyes are full of life and deep meditation, and her face is full of red lips and smile.
Fantage is the location in the main room, which means the middle of the terrestrial system and the celestial system. While the straight triangle that connects the right shoulder, wrist, and right knee of the Maitreya Buddhist saint provides stability, the curves drawn by the raised knee, the raised arm, and the lowering face give a sense of change and movement.
The eight arm parts on the wall of the front room are gods of various shapes, including the shape of a warrior and the shape of a bridge to protect an illegal body.
In the middle of the wall of the row, the 10-day cotton tube sound bomb attracts attention, with ten faces carved in a delicate and delicate fashion around the head.
How did they light up? There is a claim that the stone pagoda, facing the sunrise direction on the same day, had a light window to attract natural light, but if it were not for a light window, what would have been the lighting method of Seokguram?
These are the contents of the " West Station " at the Tang Dynasty site. The book shows the lighting of a stone cave in India, which attracted light by placing a large mirror on the floor, and when I went to India, I thought that Seokguram would have been a good place for the entrance to Seokguram.





3. Management and Retention
In 1913, Japan conducted a massive renovation of Seokguram, which was the basic policy of dismantling and reassembling and then striking concrete. Concrete could not prevent moisture in summer, and finally, moss appeared on the surface of the stone cave pieces, which eventually installed a double dome on top of the existing concrete dome in 1961. Furthermore, the wooden building was built to prevent moisture, but the humidity problem was not solved and the dehumidification mechanism was installed and the glass walls were installed for sealing as it lacked it. It is a pity to see Seokguram over the glass wall.
From now on, we can prepare for a better future if we pay more attention to cultural assets and if everyone respects them and cares. And I will not be ashamed of my descendants.



Part I
■ 現 Korea International School in Ho Chi Minh City
a history teacher