"Vietnamese Law to Know about Investors and Founders in Vietnam"
From office rent to company management to liquidation of a company in Vietnam, to A to Z in Vietnam.
The publishing ceremony was held on Monday (Friday) at the Korean Community Center in Hanoi, Vietnam (No. 713).

The author of the Vietnamese law " 10, " which includes all necessary things for Vietnam investment, including business transactions between Korea and Vietnam, investment in Vietnam, and visa creation, is the author of the Vietnamese law.

Comparing not only the latest laws of Vietnam but also the past history, he improved readers ' understanding by putting tables and images together in a way that is very easy and obvious for entrepreneurs to understand.

In particular, it was written in a simple and concise way so that Korean companies and Korean residents can deepen their understanding of the Vietnamese law.
This is a basic document that must be read not only by companies that want to enter Vietnam, but also by managers and executives who are preparing to invest in Vietnam, but also by those related to the establishment and investment in Vietnam.

'Investment in Vietnam, , Vietnamese law that must be understood by entrepreneurs changeop is 7 parts and needs to be seen from eseo understanding legal system chegye to buteo Office lease, land acquisition ' to guip purchase of real estate business housing .,

From the establishment, operation and liquidation of a corporate corporation in Vietnam to visa, temporary residence permit, land permit issuance and building use, to the rental / purchase of facilities and apartments in Vietnam, investment and implementation methods can be identified at a glance.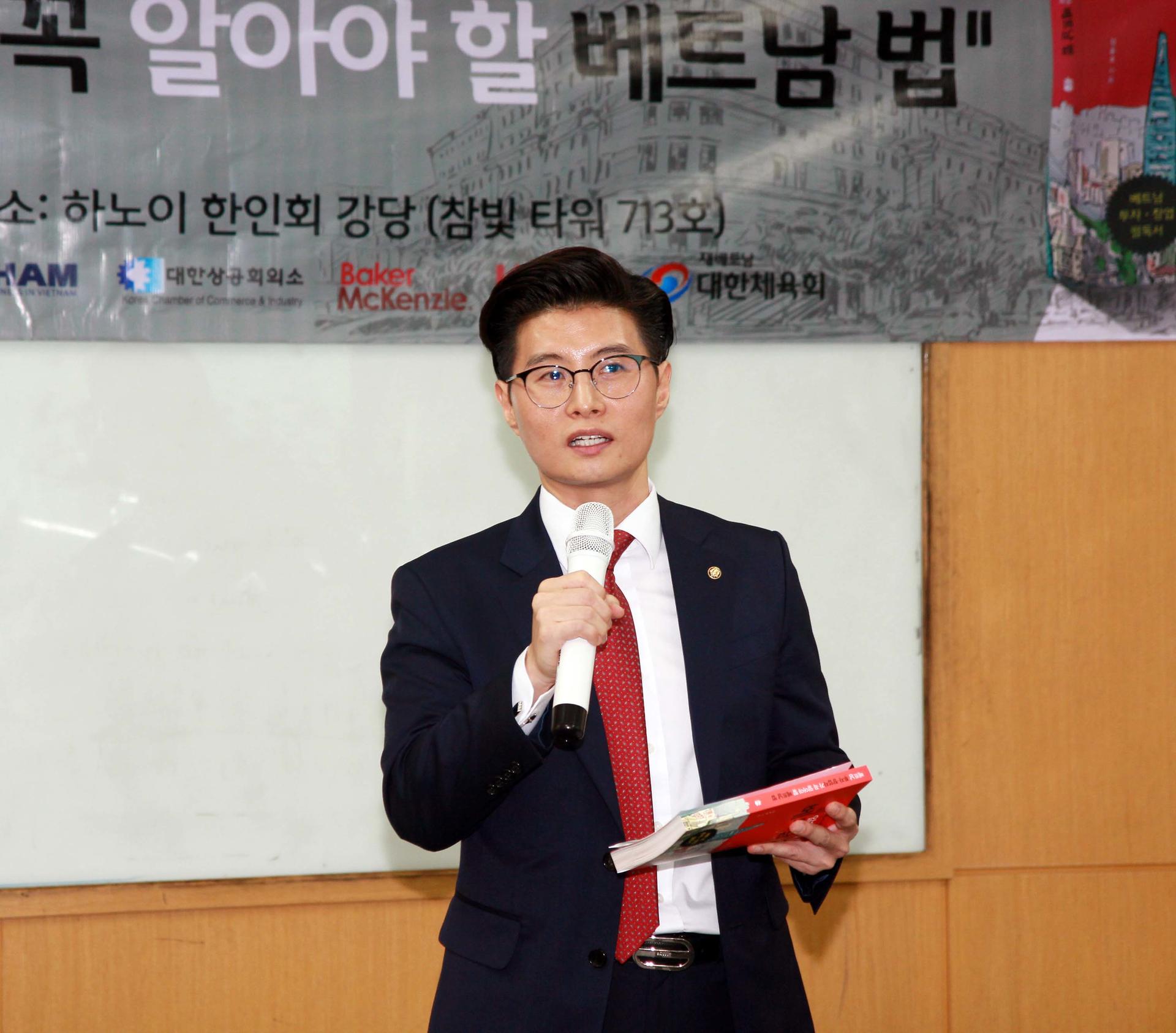 Kim Yoo-ho has served as the head of the Seoul headquarters of a large Korean law firm and the head of Hanoi for 10 years. He also works as a consultant at the Ministry of Justice, the Korean Embassy and the Korea Institute for Renewable Energy, and lectures at the Hanoi National University Law School and the Vietnamese Judicial Research and Training Institute.

○ Vietnam Law

" My life in Hanoi is just nine years old, and it's been seven years since I've contributed a monthly legal column to Life Plaza magazine. I have probably answered the same question hundreds of times in the course of meeting many clients. I think that's a circumstantial evidence that there isn't much data on the Vietnamese law. People who come to see me say, " I've got 150,000 Koreans now, and I'm having trouble knowing the law, but I've wondered if there are more people who can't come to law firms. " And I've seen a lot of things in social networking, including a column that I wrote a long time ago, that old laws and wrong information are now being shared as if they were true. To help these people, I was already writing a legal column, but I thought I'd have to publish a proper book on Vietnamese law.
As I prepared to publish this book, I worked hard and organized the contents, hoping that it would be a really helpful book for those who crave information. Thankfully, I became a bestseller on Naver's book right after it was published, and found out that I had a lot of interest in Vietnam and was really thirsty for information. "

What I would like to say to you, those who plan to enter Vietnam and those who have already made it to Vietnam.

In Vietnam, many people think it is common for businesses to do business illegally. Of course, that's what happened before, and that's how things work today.

But now, the legal system in Vietnam is being taken away. If you first choose a non-law, easy method, it will be a recipe for trouble in the future. I hope this book will help you understand how to do something that is legal, so that you can avoid costly tuition fees after failing to know the law. When you're working with someone else, there's a big difference between knowing the law and not knowing it. I hope this book will help you avoid failure and provide a small foundation for your success. "