From MSG to sausages ... Target of captivating Vietnamese people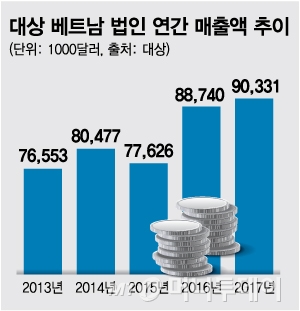 About 50 Vietnamese workers put meat dough that was changed in sausage casings such as dongchang, dongjang, and cellulose on April 14, while sweating hard. It is a food factory in Deokbiet, which is located 60km southwest of Hanoi, Vietnam's capital city. The first formed sausage is then cooled and packaged by the prime minister and sent to marts and markets in Vietnam. The annual shipment is 6,500 tons, not a large one, but Deokviet is the number one in the market for North Vietnamese sausages and the second-biggest Vietnamese company. Deokbiet was bought by a Korean food company in 2016. The target is a forward-based base to emerge as a comprehensive food company in Vietnam.

He became the first Korean food company to acquire Deokbiette and enter the Vietnamese market. Sales are still small at around 24 billion won (24 million U.S. dollars), but it is planning to double production and sales by 2015 and 2022 when it has made significant investments in improving production facilities and working conditions.
" Vietnam has similar Confucian sentiments and culture with Korea, and its potential economic growth and young economic activity have increased.

The choice of the company is based on the growing demand for pork, chicken meat and sausages. Given the growing consumption of sausages by young people, experts say that Korea's advanced technology, hygiene management and marketing capabilities will give it a chance to win. Products that were sloppy after actual purchase of the target have been upgraded significantly. The family of sausages has also diversified into ham, bacon, pixiball and hot dogs.
Along with Deokbiette, Miwon Vietnam, a local company, is speeding up its efforts to penetrate the Vietnamese market. Miwon Vietnam is the only foreign company in the group to have MSG (sodium glutamate), food and whole sugar. The company, which entered Vietnam in 1994, started producing and selling MSG in 1995 when it established a plant near the city of Hanoi. It has continuously expanded its facilities and currently has production capability of more than 35,000 tons of MSG.

While global food companies such as Japan's Azinomoto and Aewon dominated the market in early stage of its entry into Vietnam, Miwon Vietnam has become a " Big 3 " company with reasonable prices and high quality.

In addition to MSG since 2002, it has diversified its products into soup mix, frying powder, chili sauce, soy sauce, kimchi and seaweed. In June 2005, it established a production center in Ho Chi Minh City to mark the 10th anniversary of its entry into Vietnam. It is aimed at securing production and logistics bases in Vietnam and marketing activities in order to target southern Vietnam beyond its previous base in Hanoi.
At major stores in Vietnam, you can often see Miwon's MSG, seaweed, and kimchi on the shelves. " Korean products are hygienic and especially good for the taste of MSG, " said Eungwen Chaghien, a source at Ion Mall in Hanoi.

This year is a period of full growth. Deokbiet and Miwon Vietnam have hired Park Hang-seo, coach of the Vietnamese national football team, as their TV sets and ground advertising models since this month. In order to target young people, who are the main members of the small class, Park was selected as the symbol of dreams and hopes by the local team.

" Vietnam will be aggressively advanced by global food companies and is developing variety of processed food categories and new consumption markets.
Source : http://news.mt.co.kr/mtview.php?no=2018060408383767106