Shinhan Bank's Unique CSR, "5th Shinhan Bike Run"
Shinhan Bank has been continuing its social contribution activities in Vietnam under the slogan " Warm Finance. " On May 12, more than 130 employees, including Bank of Korea President Shin Dong-min, participated in the Long An event in the south of the city on April 21. In particular, the event was held as a joint social contribution event between Vietnam and South Korea, with Vietnamese financial officials participating.

Shinhan Bike Run is Shinhan Bank's original CSR activity, delivering bicycles that employees ride directly to students with difficulties in the environment.

At the event, Tan Cuong, a city in the Vinh Tuong District, delivered the new bicycle to a total of 90 underprivileged students.

Officials from Shinhan Vietnam Bank gathered early in the morning, ran 8 kilometers, gathered at Nguyen kien school where students could not wait, and delivered the bike to young students who had not ridden directly.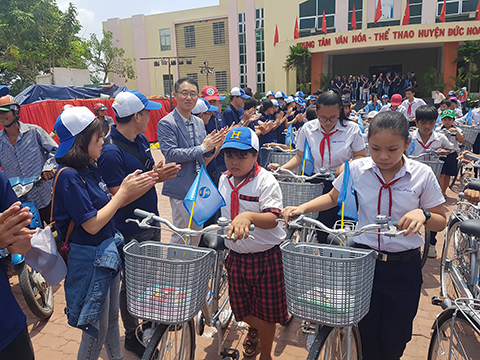 Shin Dong-min, the president of Bank of Korea, said, " The Shinhan Bikeran event is an event where employees can not only experience stress in the office while running through the forest, but also experience mutual relationships. "