A Field Report on Korean Studies
"We must increase the number of professors dispatched to the university." "Need to support the fellowship and guest training." "Let's strengthen industry-academic cooperation. "
"Exchange must be activated to keep up with the latest trends"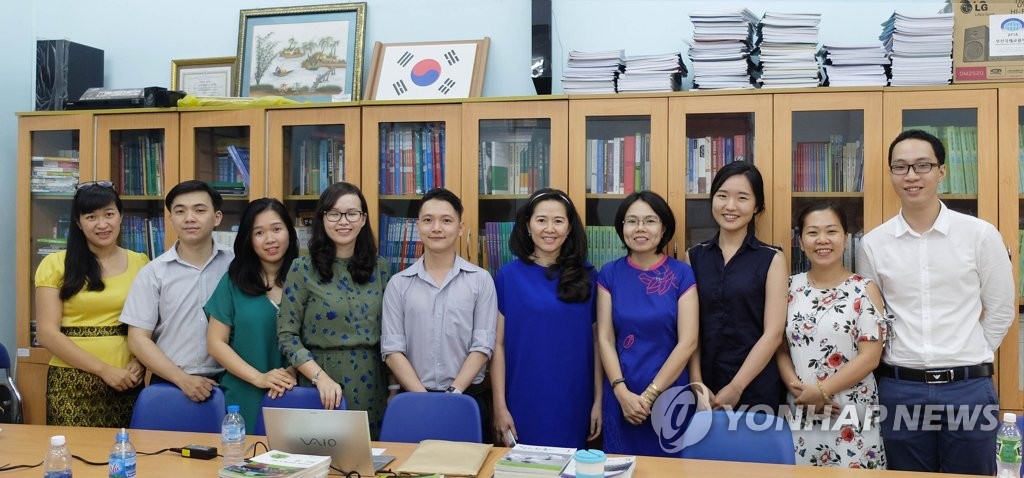 Experts in Korean studies at universities in Vietnam, Indonesia and Malaysia said, "The Korean wave and economic exchanges are a great opportunity to develop Korean studies."

In particular, these scholars are working to expand and retrain the number of professors, improve the teaching system, and strengthen the industry-academical cooperation of teachers.

◇ Euwen TaI, a professor of the National Institute of Human Science in Ho Chi Minh University, conducted a survey earlier this year on the current status of Korean studies in Vietnam, with the highest number of full-time teachers with master's degrees at 23 universities. Moreover, it is hard to concentrate on research as the number of professors is insufficient and the rest of the class is too busy to take a sabbatical day. The challenge is to raise the level of teachers since it is to provide higher education.
Linguistics majors account for 50 percent of the total faculty, and each university wants to reform its curriculum, which focuses on Korean language, but it is leaving the program because it is difficult to supply and receive teachers. Students who have studied in Korea after graduation have no chance to return to college, which makes it a shame that the continuity of academic studies is lost. A graduate school is essential to nurture professional teachers, but the quickest way is to increase the number of guest professors from KFs.

◇ Director of International Cooperation at Ho Pan Ant Ho Chi Minh Arts University = With the help of the Japan International Exchange Fund, the Korea Institute of Technology and Technology (graduate course) was established at universities three years ago, and 2,000 students attended the school. Each semester, 100 students study at Japanese universities as exchange students, and the quality of education is increasing as the number of invitation programs for teacher improvement is diverse. We would like to establish the Korea-BeijI Training Institute of the same type with support from Korea, if not as much as Japan. I am not asking for help indefinitely. Sponsorship is needed until it has its own growth engine.

◇ Eva Rapita, director of Korean studies department at Indonesia National University, said, " The most disappointing thing is that there is no interaction with overseas Korean studies educators. I wonder what subject foreign countries focus on and how they teach. There are Korean studies classes at 100 universities around the world, and I hope the Korean government will lead the World Congress on Korean Studies where all the relevant professors gather. It will be of great help to keep up with the latest trends in Korean studies and to set up a position to learn how to teach. It could accelerate the revitalization of education as it will naturally stimulate the Korean studies department of its universities.
In the beginning, if the Korean government takes the lead in the competition and takes root, the Korean studies hub university of each country will be the center of the competition. This is effective in both ways, as not only professors but also Korean students can broaden their horizons and improve their vision.

◇ Ho Chi Minh Korea Education Director Kim Tae-hyung : Among foreign students in Korea, 22 percent (32,800) came from Vietnam, second only to China (78,900, 47 percent). The institute's Korean language course attracts more than 2,000 students every year and takes the Korean proficiency test five times a year. Vietnam has the largest number of tests in the world. This is because there is a high demand for Korean companies that have entered into South Korea or to study and work in South Korea. However, the rising labor costs must not forget the withdrawal of Korean companies from China. Fortunately, South Korean companies in Vietnam actively implemented localization and actively recruit qualified people as managers.

According to a recent survey of Korean students who graduated from the department of Korean studies, there are cases in which more than one of the reasons they prefer Korean companies is not only the relatively high salary but also the company atmosphere in which they can freely display their abilities. Some companies select Korean students as interns or provide scholarships. The better the industry-academic cooperation, the stronger the foundation of Korean studies will be.
◇ Professor Shin Young-deok of the Education Institute of Indonesia Since Korea has been promoting Korean studies earlier than Korea, the basis for regional studies is much wider as many students learn Chinese or Japanese as the second foreign language at local middle and high schools.

Indonesia has also designated Korean as a second foreign language subject for middle and high schools since 2013, but no school has been introduced. This is because there is no teacher to teach Korean. A Korean language education department will be established at the Korean Education Education Education Education Institute in 2015, and teachers will be released starting from next year. The more students learn Korean from middle and high schools, the stronger the foundation of Korean studies will be. What is regrettable is that there are no customized Korean textbooks for middle and high school students. I hope that the Korean government will be interested in promoting Korean language classes not only in universities but also in middle and high schools.

◇ Professor Jang Yong-soo of Malaysia Malayah University : Teachers dispatched by the Korean government to promote Korean studies often find that existing teachers hate them. In contrast, the education administration does not proceed as quickly as in Korea, causing conflicts with existing teachers. Prior education on national education administration and the climate should be strengthened before being dispatched. In particular, when sending troops to Southeast Asian countries where many people live and many foreigners come in, education on multicultural culture is essential.

It is necessary to flexibly operate the appointment period by diversifying the teachers ' system for Korean studies, including KFA, KOICA, and Korea International Education Institute. Continuation is necessary in order to establish a department or nurture a specific field. To do so, school and vision sharing should take precedence, as well as objective evaluation of work competency.
Source : http://www.yonhapnews.co.kr/bulletin/2018/06/04/0200000000AKR20180604130200371.HTML