Meeting with Vietnam's Prime Minister and South Korean Defense Minister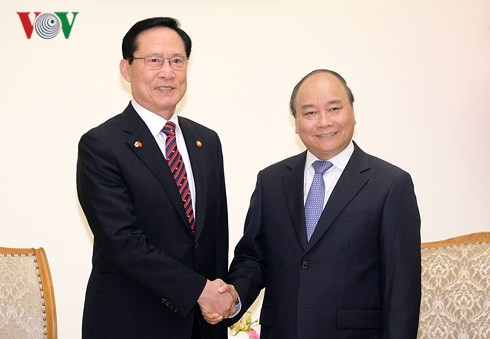 In the afternoon of June 4 at the government building, Vietnamese Prime Minister Ngwen Xuan Ph . met with South Korean Defense Minister Song Young-moo.

The Vietnamese prime minister confirmed that the Vietnamese government has contributed to diversifying and deepening the contents of strategic cooperation partners by creating favorable and favorable conditions for the two countries ` defense ministries to cooperate more effectively.

The Prime Minister praised South Korea's efforts to promote dialogue and resolve the issue peacefully. Also, Vietnam welcomed the Korean government's new South Korea policy, which regards Vietnam as a key partner, saying it is ready to play an active role in promoting Korea-ASEAN relations. And Vietnam donghae, review the destroyer into an area of freedom, cooperation, friendship, international law, and hope Korea will continue to support its position in Vietnam.

Minister Song Young-moo confirmed South Korea's position in the new policy that Vietnam is the top partner. The minister agreed that the defense cooperation would contribute to promoting economic cooperation, and at the talks, both sides agreed on measures to strengthen the Vietname-Korea partnership. The minister praised Vietnam's stance on peace on the Korean peninsula and Vietnam and other countries as of the highway connecting the freedom of navigation and of the donghae.Said. The minister also held a regular communication channel with Vietnam to confirm his willingness to cooperate with Vietnam in the defense sector.