Korean media company, Vietnam's general cable TV business, entered the Korean cable TV business
BHT Asia Media - Good Morning Media Joint Vietnam VTC Channel 6 Operating Rights
22 hours per day for home shopping and entertainment lifestyle content.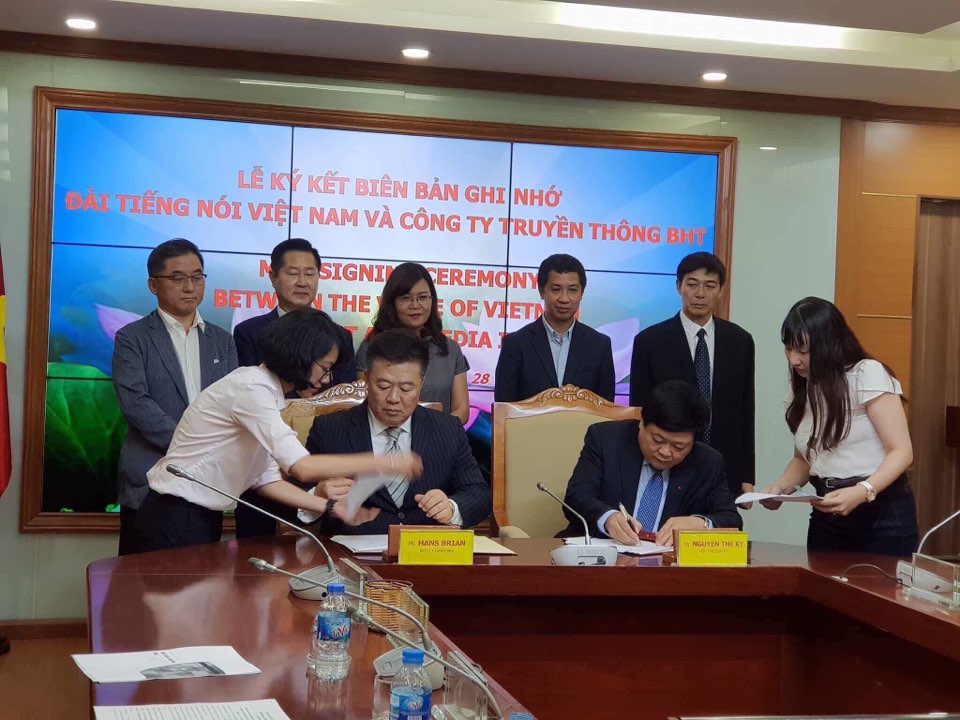 Chairman of Voice of Vietnam (right in the front row) and Chairman Yoon Han-seop of the Korean business of BHT Asia Media of the Americas signed a memorandum of understanding (MOU). The back row left end is CEO Hwang Deok-joon of Good Morning Media, Director of International Cooperation at VOV Wooyun Hua Hoa, President Uman Kim and VTC, Vice President Vien Van VTC, Vietnam.
Good Morning Media (CEO Hwang Deok-jun), which publishes The American Herald Economy, has a joint venture with BHT Asia Media (CEO Yoon Han-sup.
Under this contract, BHT will operate Channel 6, which is one of 16 channels under VTC, for 10 years starting from January 2019. Since Vietnam's broadcasting business license is reviewed every 10 years, BHT can conduct broadcasting business in Vietnam for up to 20 years with an optional extension of another 10 years.

Under the contract, VTC will provide variety of broadcasting stations such as production transmission and others so that they can supply contents to terrestrial and cable, IP TV, and mobile platforms. BHT plans to broadcast Channel 6 22 hours a day, organizing it as lifestyle content such as home shopping, entertainment and health care tourism. Korean companies such as CJ and Hyundai are entering the home shopping broadcasting market in Vietnam, but BHT is the first foreign company to enter the general programming channels such as entertainment.
BHT and Good Morning Media's entry into the Vietnamese broadcasting market came after more than two years of efforts to get out of the saturated Korean media market. VTC, along with other state-run VTV, divides the Vietnamese broadcast market into two categories based on a nationally viewable network. In Vietnam, with a population of 100 million, television is available to 2.55 million households, or 90 percent of the 25 million households in 2016.

BHT signed a memorandum of understanding for business partnership with VTC's parent company Voice of Vietnam (VOV) on Wednesday. At the signing ceremony, the chairman of VOV, who is considered a prominent member of the Communist Party of Vietnam, signed the signing ceremony, making the first investment by a Korean company in Vietnam.
" Given the potential of Vietnam's economy, which is growing at nearly 7 percent per year, the value of investment in home shopping broadcasting business through the combination of lifestyle contents is very attractive, " said Brian Yoon, chairman of BHT.

Hwang Deok-jun, CEO of Good Morning Media, an economic publisher of the American Herald, said, " Korea's excellent broadcasting content proven through the Korean Wave and its highly-functioning products are connected to the highly growing Vietnamese market. "
Source: http://heraldk.com/2018/05/29/la-로컬-한인-미디어기업-베트남-종편-케이블tv-사업-진/