Japan and Vietnam to strengthen maritime security and defense cooperation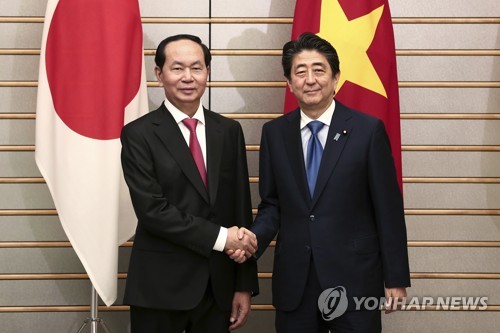 Japan's Prime Minister Shinzo Abe and Vietnam's President Trans-Dam Dish will strengthen maritime security and defense cooperation between the two countries, Kyodo News and Yomiuri Shimbun reported on Tuesday.

According to reports, Abe and Chinese President Kong had a summit meeting at the prime minister's official residence in Tokyo the day before.

After the meeting, the two leaders issued a joint statement aimed at China, which is seeking to establish a military base in the South China Sea, saying, " We ask related countries to take no unilateral action. "

They also expressed concern over the situation in the South China Sea and emphasized that " non-militarized " by diplomatic means is important.

The two countries have also decided to push for defense cooperation through the visit of Japanese Self Defense vessels to Vietnam.

Abe said in a news conference that he wants to work with a country that is in favor of his foreign policy guide, the free and open Asia-Pacific strategy.
" We shared the importance of the free and open Asia-Pacific region based on international law, " he said.

The joint statement also included a statement welcoming the North's move, including the inter-Korean summit.

Regarding the TPP signed by 11 countries including Japan and Vietnam, the statement said that the expansion of the deal will benefit both countries.

Japan has decided to provide 156 billion yen (15.3 million dollars) in loans to the Vietnamese vocational training institute.
Source : Hankyung News