A scholarship to the Korea Chamber of Commerce, Industry and Energy
A scholarship to the Korea International School in Ho Chi Minh City
– – Giving scholarship to the best students at KOCHAM's economic competition –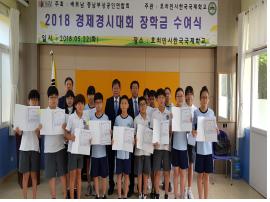 Korea International School in Ho Chi Minh City (principal Kim Won-kyun) said on May 22 (angry)

The scholarship was presented to outside figures, including Kim Heung-soo, president of the South-South Central Business Association (KOCHAM) in Vietnam.

The scholarship ceremony was held in April and early May by KOCHAM to learn about entrepreneurship and improve understanding of the economy and the Vietnamese economy.

The award ceremony delivered a total of 1.5 million scholarships, including Song Tae-oh, a fifth-grade elementary school student, Kim Su-ryeo, 11th grade Hwang Hye-jeong and 12th grade Kwon Soon-ho.

Kim Heung-soo, chairman of KOCHAM who attended the event and awarded a scholarship, said, " Through our efforts, Korean companies can overcome the difficulties of being able to win the Vietnam economy. Kim Won-kyun, president of the Korea International School in Ho Chi Minh City, said, " Through this economic competition, students have become more interested in the economy.