Two years after the press conference of Vietnamese actress Tears, CGV criticism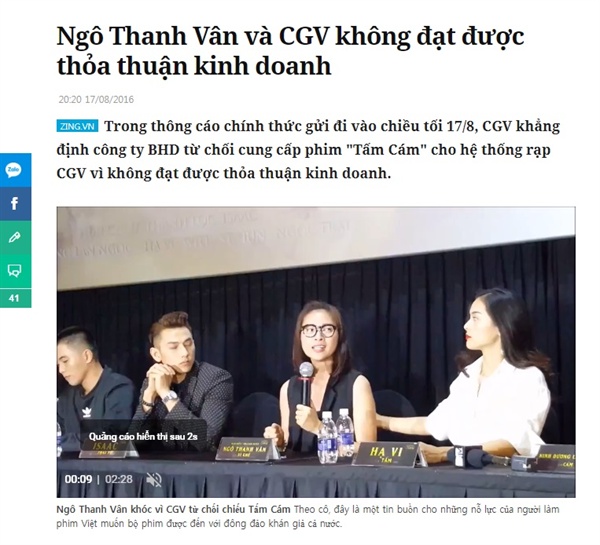 In 2016, Veronica N'Goo, who is known in Korea and abroad for her role as Tycho in the movie Star Wars : Last Jedi (2017), held a press conference in front of Vietnamese media. The fact that his film, " Tom Cam, " was banned from showing at CGV, Vietnam.

Soon after, local media began reporting critical of CGV's business in Vietnam. Since entering the Vietnamese market in July 2011, the movie has pointed out unfair behaviors of CGV, which has become the top company in the industry with a 40 percent share of theaters in the country. In addition, some movie groups in Vietnam, including the Vietnam Film Distribution Association (FDEAV), submitted a petition to Vietnamese authorities asking for correction. Two years later, how did things change? During the 71 Cannes film festival, he contacted several Vietnamese filmmakers. At the same time, he was able to hear the detailed stance of CGV.
3 Criticism towards CGV

So far, there have been three major problems with CGV's Vietnamese office. First was the problem of distribution of profits between the movie produced or distributed by CGV and the local production company in Vietnam. Second was the problem of the discount rate of tickets specialized by CGV such as 3D and IMAX.

`` CGV's share of theaters has increased sharply to 40 percent as of 2017, '' a Vietnamese media, Capebiz, reported in its April 2 issue. " In the near future, CGV will show a dominant position in the distribution market for Vietnamese movies, " said the movie, adding, " While the movie produced by CGV will have 55 to 45, the movie will be made by CGV. "

The media added that while CGV is gaining that much, the producers are paying more for it, adding that Korean films that are screened in the U.S. are more likely to have a better time than Vietnamese movies. According to the report, CGV, which has the highest market share, is using its exclusive position to make a policy favorable to the company.

Another media called " The Reader " also reported that CGV's revenue from theaters in 2017 has increased three times from 2015.
Source : http://star.ohmynews.com/NWS_Web/OhmyStar/at_pg.aspx?CNTN_CD=A0002440524