Top travel Preference ' - Koreans Can't Stop Love in Vietnam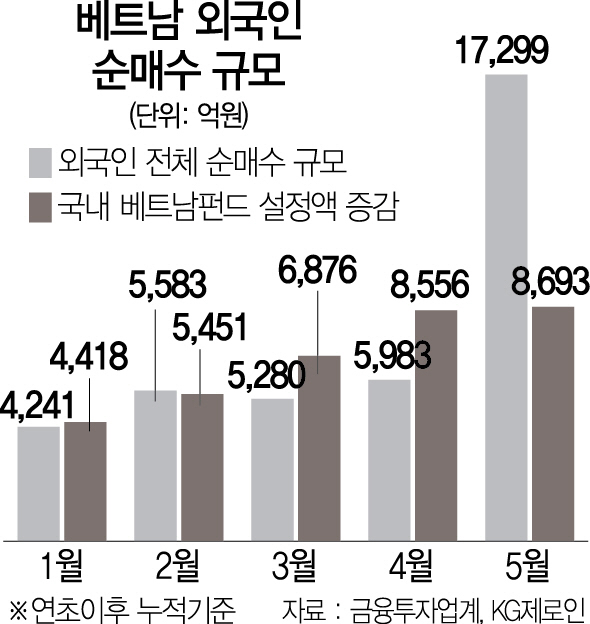 Korean investors have swept away Vietnamese stocks since the beginning of this year despite the falling warning light. While global investment banks were withdrawing their investments in Vietnam this year, domestic funds, which were funded by private investors, continued to pour funds into Vietnam. Inside the securities industry, critics say that the company created new funds and continued to sell them despite overheating of emerging markets.

According to financial investment (IB) industries and fund evaluation firm KG Jaroin on Wednesday, Vietnam's investment in foreign equity funds has reached 869.3 billion won since the beginning of this year. This amount is double the annual (461.3 billion won) amount of net foreign purchases at the Ho Chi Minh exchange in Vietnam, which is half of the total net purchase amount of 1.6 billion dollars (1.78 trillion won) since the beginning of the year. In other words, about half of the foreign funds invested in Vietnamese stocks are in Korea.
Korean investment in Vietnam has been overheated since January this year, exceeding net foreign buying. In January, foreigners net purchased $ 392 million (about 400 billion won) from Vietnam, accounting for 411.8 billion won per month from Vietnam. At that time, Korea Investment Trust Management, which judged Vietnam's investment in Vietnam as overheated, temporarily suspended (soft closing) the sale of certain funds, including Korea Investment, Vietnam Gross Securities, and Zatousa Securities. Meanwhile, other management companies released new funds to invest in Vietnam at that time, attracting new investors. For this reason, the accumulated amount of the Vietnam Fund set up in March increased from 500 billion won to 600 billion won. Over the same period, net foreign buying in Vietnam decreased. Hantu management, which temporarily suspended sales, also resumed sales in April.

Contrary to expectations, the Vietnamese stock market, which soared to 1,204 in April, has now fallen to the early 900 units. Domestic fund yields are also struggling. Over the past three months, Korea's major Vietnam funds returned - 13.3 percent, with individuals making investments in February losing more than 10 percent. The investors ' loss in January, when capital is most concentrated, amounted to - 3 percent.

Stock firms have already raised concerns over investment in Vietnam since March, but investors have turned to other management companies, such as glass asset management and Mirae Asset Asset Asset management, while the largest fund in Korea and Japan stopped selling. In fact, the two management companies raised about five times as much capital in March. However, experts do not doubt the long-term growth of Vietnam. " Vietnam will maintain relatively stable currency flows in emerging economies despite strong markets, which will limit pressure to increase interest rates if safety asset preference is eased, " said Seo Min-woong, a researcher at Shinhan Financial Investment Institute.

However, it is hard for individual investors, who usually have a short investment period, to keep their funds in long-term supply to the declining overseas market. It is because it is difficult to maintain investments if variability is reemphasized. It`s time to buy the Vietnam stock market, but individuals can not recommend a way to invest a lot of money at once, said the fund management office of the local asset management sector.