Is this your first time in Vietnam?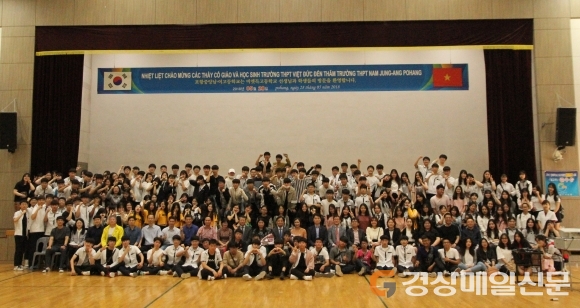 Students of Pohang Girls ' Middle and High School in Pohang and Vietnam's Viyedek High School in Hanoi are taking pictures after the exchange event.

The Pohang Central High School (Principal Kim Hyeon-woo) and Pohang Girls ' High School (Principal Ahn Yoon-su) contribute to a friendly atmosphere between the two countries through exchanges between Vietnamese teenagers.
Students and faculty at Viet Duc High School in Hanoi, Vietnam, attended a variety of events for two nights and three nights.

Vietnamese teenagers also showed great interest in the Korean academic atmosphere by visiting two schools to observe classes and comparing their classes.
During the exchange period, it was time for families to homestay to experience Korean manners and family culture, and visited Gyeongju Cultural Heritage sites to show deep interest and positive response to the traditional culture.

In addition, the two Korean school students performed K-pop, samulnori, and Nanta, which are popular worldwide, and Vietnamese students also performed traditional dances of the million-city city of Hanoi and other cultural performances.

In the meantime, Pohang Middle and High schools have been exchanging visits to Vietnam every year since they formed a sisterhood relationship with Viet Duc High School in Hanoi, Vietnam in 2014.
Source: http://www.ksmnews.co.kr/default/index_view_page.php?idx=209538&part_idx=339